It has been evident that fans of the "Grand Theft Auto" franchise are dedicated to finding all the clues there could be to have enough reasons to still hope for the launch of "GTA 6." In their latest quest of Easter eggs, the gamers believe developers could be using a dirt road in the state of Virginia to send them a cryptic message about the much-awaited sequel.
Fans scoured Google Maps to find this supposed 'GTA 6' easter egg
It all started when Rockstar Games released the official trailer for the next "GTA Online" expansion. In one frame, fans spotted map coordinates that when searched on Google Maps bring them to this area in Middle Mountain Trail in Virginia.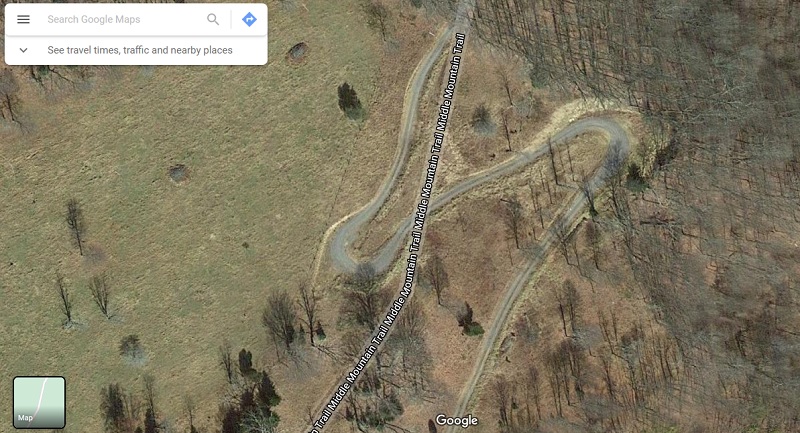 Screenshot from the Google Maps
What caught the attention of hopeful fans is that the one end of a rough road is supposedly shaped like the Roman number VI. They then suggested that this could be Rockstar Games' way of subtly telling them that "GTA 6" is in the pipeline. Of course, there is no way to verify now whether or not fans got it right. But this should be a fun way to keep themselves distracted from the fact that the developer has yet to provide any update about the future of the franchise.
'GTA 6' release date, gameplay: What to expect
No matter how interesting an information is about "GTA 6" that can be found online, fans should not that most of them are mere speculations. As mentioned, Rockstar has not event confirmed the development of the next game. And the developer is unlikely to make any significant announcement on this matter through next year since its major plans for the franchise is focused on expanding "GTA V" for PlayStation 5 and Xbox Series X/S.
As for the gameplay, many are expected "GTA 6" to be mainly set in Vice City. It has also been rumored for a long time that Rockstar could introduce a new location inspired by a city outside the United States following claims that the upcoming game is internally called "Project Americas." There is also the question about the main protagonist, and some of the reported possibilities include introducing the first female main character.