Sony is gearing for another PlayStation 5 event this week, and there are speculations that Rockstar Games could be part of it again. The last time the video game studio appeared at a PS5 showcase, they had an announcement, but it was not the highly anticipated "GTA 6."
'GTA 6' announcement this week or not?
First, it should be noted that Sony has yet to confirm the list of third-party developers that will partake in the PS5 event on Wednesday, Sept. 16. However, fans are already speculating that Rockstar could make a comeback.
A Reddit user pointed out that Rockstar's official Twitter page does not have a pinned tweet at the moment. They further suggested that the developer only does this when there is an important announcement coming up. Given that the PS5 showcase is the nearest big event happening in the gaming world, they deemed that the two could be connected.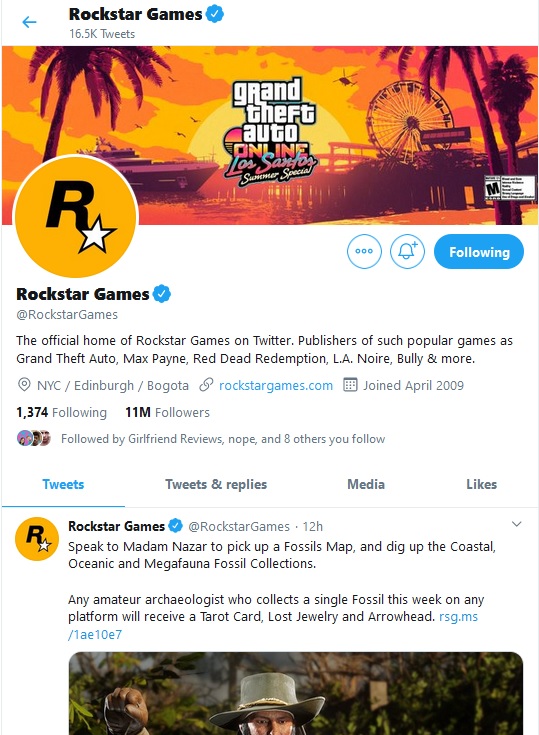 As of early Sept. 16, the Rockstar Games official Twitter page has no pinned tweet as pointed out by a fan.
While other fans replying in the post do not necessarily reject the possibility, most of them are not expecting anything directly related to "GTA 6." Some even joked that the potential announcement could be any news about a "GTA V" expansion, but not about the next main series installment. Others have also seriously suggested that the developer could announce an upgraded version for "Red Dead Redemption 2" for the next-generation consoles.
It is not far-fetched for Rockstar to appear at the PS5 showcase even without big news about "GTA 6." It appears that the developer has an exclusivity deal with Sony, and it would not be surprising if that is in effect for their other IPs heading to the PS5 as well. The PS5 showcase will happen on Wednesday at 1 p.m. Pacific Time and will be streamed on PlayStation's official YouTube and Twitch channels.
'GTA 6' release: When to expect it
Fans are probably right not to get their hopes up for any "GTA 6" announcement this week. Many already had their hopes crushed when they expected the next game to be announced at an earlier PS5 even in June, but Rockstar ended up announcing just another expanded version of "GTA V" for PS5.
On that note, the version of "GTA V" for the next-generation consoles is currently slated to launch in the second half of 2021. This seems to be the best clue gaming fans have that suggests not to expect the "GTA 6" release date before 2022.