The "Boruto: Naruto Next Generations" anime series is still on hiatus due to coronavirus. Its manga counterpart, luckily, managed to not only keep its regular release schedule but also to have "Boruto" chapter 47 arrive a few days early.
'Boruto' chapter 47 release date moved to an earlier schedule
Soma manga fans are still wishing that a new chapter of "Boruto: Naruto Next Generations" would be released every week. But to the manga staff's credit, they have been consistent with release dates making the series' monthly schedule worth the appreciation. There are even times, like what will happen with "Boruto" chapter 47, that some installments come out a little earlier than expected.
First, it should be noted that the manga series is part of the VJump magazine circulation. The great news is that its August 2020 issue, which was supposedly dropping on Saturday, June 20, is confirmed to be released on Thursday, June 18, in Japan, leading to the early arrival of "Boruto" chapter 47.
International fans who depend on reading new chapters of "Boruto" online will have to wait within a day for the digital and English copy of "Boruto" chapter 47 to become available online. Fans outside Japan should consider the time zone differences in waiting for "Boruto" chapter 47 online as well.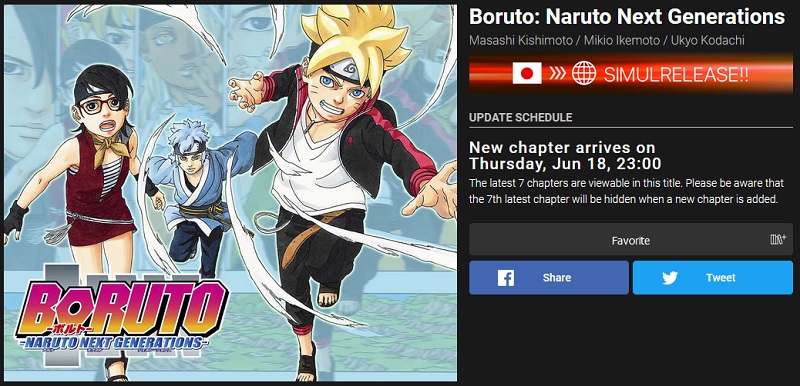 Screenshot from the Manga Plus website
Fans in some regions will have to wait until the late hours of June 18, just as indicated on Manga Plus, likely because of the website's simulrelease feature. However, Viz Media maintains the June 20 release date. Mobile apps for Manga Plus and Shonen Jump also carry the new chapters of "Boruto" for free.
'Boruto' chapter 47 predictions, spoilers: Is Amado really on Konoha's side?
The recent chapters have been thrilling and very informative. While Kashin Koji and Jigen battle it out at the Kara HQ, Amado is spilling the beans on the Otsutsuki clan's real plans. This is most likely the same situation when the manga returns as "Boruto" chapter 47 picks up from Amado's promise to teach Konoha how to defeat an Otsutsuki.
It is understandable if fans still find Amado's motives sketchy. His intentions might be more than just wanting to stop the Otsutsuki from destroying the planet, but that is still unknown for now. So far, though, he has proven to be quite an asset as Konoha now knows much more about the real threat it is facing. His value as a refugee to Konoha might elevate even further if he delivers his promise to reveal in "Boruto" chapter 47 how Isshiki can be defeated.