The latest rumors on the iPhone 12 series heighten the anticipation that it will pave the way for many firsts in Apple's premium smartphone lineup. A report hints that the upcoming devices will be available in a new color variant that could also become a massive success like when the Jet Black option was launched in iPhone 7 in 2016.
iPhone 12 design rumors: New Navy Blue color theme to reportedly replace iPhone 11 Pro's Midnight Green
The iPhone 11 Pro lineup features a fewer selection of color variants, only adding Midnight Green along with the usual Space Gray, Silver, and Gold options. The cheaper iPhone 11, on the other hand, had more fun color finishes with a total of six options.
It now appears that Apple is maintaining the same strategy for the Pro lineup of the iPhone 12. However, leaker Max Weinbach claims that the Midnight Green would no longer return this year and would be replaced with a Navy Blue finish. YouTube channel EverythingApplePro reminds its viewers that Weinbach does not have a perfect track record when it comes to iPhone leaks, but he did correctly reported on the Midnight Green's addition before its launch last year.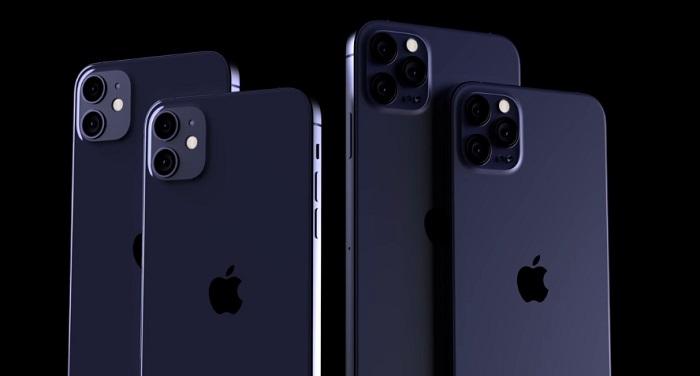 Screenshot from EverythingApplePro/YouTube
EverythingApplePro also shares concept images of an iPhone 12 Pro in the Navy Blue colorway, and they look promising. If this design rumor would tally with Apple's announcements later this year and the actual device would look quite similar to the concept designs, the iPhone maker is likely to see another well-received new color variant like with the Jet Black iPhone 7 in 2016.
Apple has been rumored to introduce four new premium iPhones this year under the iPhone 12 lineup. Reports from analyst Ming-Chi Kuo suggested that the 2020 lineup of devices will include one 5.4-inch model, two 6.1-inch devices, and a 6.7-inch iPhone 12 that will all sport OLED display panels and support 5G connectivity.
iPhone 12 release date: When to expect Apple's next high-end smartphones
Apple is also rumored to release the iPhone SE 2/iPhone 9 within the first quarter of 2020, making the iPhone 12 lineup not the only smartphone announcement from the tech giant. But Apple is still expected to maintain its usual fall unveiling event and retail release for this year's set of new high-end smartphones.