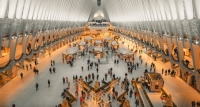 'The Prime Effect' means retailers must innovate during the holidays and beyond
Dec 16, 2019 04:00 am UTC| Insights & Views Business
The year 2019 will be known as the year of retail closures in Canada and the United States. Canadas Home Outfitters and Payless ShoeSource have recently announced theyre beginning to close all retail outlets. These...
Technology start-ups that fail fast, succeed faster
Aug 16, 2019 06:44 am UTC| Insights & Views Business
Failure rates of new technology-based companies are shockingly high. It is estimated that 75 per cent of technology start-ups do not generate profits. Other data suggests upwards of 90 per cent of new technology...