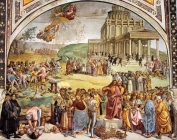 Five things to know about the Antichrist
Oct 20, 2020 13:42 pm UTC| Life
In the history of the West over the last 2000 years, there has never been a time when someone hasnt been predicting the end of the world. And now, with a seemingly insoluble climate crisis, pandemic surges, savage...
Thoughts and prayers: miracles, Christianity and praying for rain
Oct 20, 2019 10:22 am UTC| Insights & Views Life
In a speech in Albury last month, Prime Minister Scott Morrison told his audience that he was praying for rain in drought-affected areas. I pray for that rain everywhere else around the country, he continued. And I do...