Want to help save wildlife after the fires? You can do it in your own backyard
Feb 25, 2020 01:06 am UTC| Insights & Views Nature
People living in cities far from the unprecedented bushfires this summer may feel they can do little more to help beyond donating to organisations that support affected wildlife. But this is not necessarily the case: ten...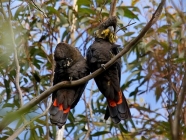 Conservation scientists are grieving after the bushfires -- but we must not give up
Jan 21, 2020 01:38 am UTC| Insights & Views Nature
That a billion animals may die as a result of this summers fires has horrified the world. For many conservation biologists and managers, however, the unprecedented extent and ferocity of the fires has incinerated much more...