This isn't the first time sports teams have played in eerily empty arenas
Mar 15, 2020 06:01 am UTC| Sports
The NBA decided that it will suspend its season after a player on the Utah Jazz tested positive for the coronavirus, just after the NCAA announced that its mens and womens basketball tournaments will be played without...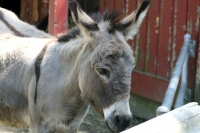 Calling someone a 'jackass' is a tradition in US politics
Mar 01, 2020 12:33 pm UTC| Politics
When Virginia Democrat Sen. Tim Kaine called President Donald Trump a jackass in early February, Kaine engaged in a political practice that is as old as the nation. Probably no animal is used more as an object of...