Social Media Revolution Series

Why the UK government is paying social media influencers to post about coronavirus
Sep 09, 2020 13:33 pm UTC| Politics
Social media influencers are often seen as lazy freelancers who make a living being paid to pretend they like products. But these celebrities are more than just marketing vehicles. If used properly, they can be effective...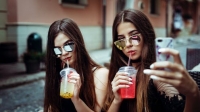 Instagram influencers: when a special relationship with fans turns dark
Aug 08, 2018 13:05 pm UTC| Insights & Views Entertainment
Ask a child or teenager what do you want to be? and you might get the response, a YouTuber. Instagrammer. Thats perhaps not surprising given how attractive the world of social media influencing seems to be. It looks...