We can put a leash on Google and Facebook, but there's no saving the traditional news model
Jul 29, 2019 01:27 am UTC| Insights & Views Business
Living with two preteens, I get almost daily requests to approve new apps. My standard response is to ask my kids to describe the app, why they want it, and how it makes money. The last question is important, and not...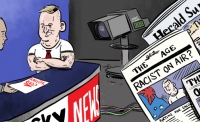 Profit, not free speech, governs media companies' decisions on controversy
Aug 13, 2018 13:48 pm UTC| Insights & Views Business
For decades, U.S. media companies have limited the content theyve offered based on whats good for business. The decisions by Apple, Spotify, Facebook and YouTube to remove content from commentator Alex Jones and his...