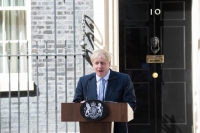 Boris Johnson's Downing Street refurbishment: might a law have been broken?
Apr 30, 2021 07:43 am UTC| Politics
The Electoral Commission has announced that Boris Johnson, the, erm, prime minister of the United Kingdom, is under investigation. Well, to be precise, the Commission will investigate whether any transactions relating to...
Arron Banks investigated over £8m given to the Brexit campaign – what can this even buy you?
Nov 08, 2018 17:20 pm UTC| Insights & Views Politics
Founder of Brexit campaign group Leave.EU, Arron Banks faces investigation by the National Crime Agency after being referred to them by the Electoral Commission. The case centres around 2m that Banks (and his insurance...