Rodrigo Duterte terminated a military agreement with US – why it could push Philippines closer to China
Feb 18, 2020 01:15 am UTC| Insights & Views
The president of the Philippines, Rodrigo Duterte, decided to terminate a prominent and unpopular military agreement with the US in early February. The move came as a direct response to Washingtons invocation of the...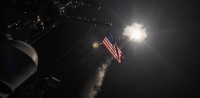 Why Trump's Syrian strike was a good thing
Apr 10, 2017 13:54 pm UTC| Insights & Views
The Syrian people and their Muslim brothers and sisters have been screaming for help for years as crimes against humanity racked up against them and their kin. Yet the West has so far refused to intervene directly and...