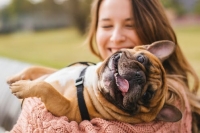 Pandemic puppies: Canine crisis or happy household?
May 03, 2021 02:46 am UTC| Life
At first, it was toilet paper and hand sanitizer. People stuck at home with time to bake bought up all the flour. Next came the terrifying shortages of hospital ventilators and ICU beds, and eventually vaccines. Then...