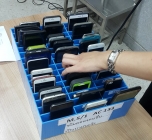 Banning mobile phones in schools can improve students' academic performance. This is how we know
Mar 22, 2021 13:15 pm UTC| Life
The effects of mobiles phones and other technology at school is a hotly debated topic in many countries. Some advocate for a complete ban to limit distractions, while others suggest using technology as a teaching...
Here's how the coronavirus is affecting Canada's labour market
May 14, 2020 10:05 am UTC| Economy
The shutdown of non-essential services to control the spread of COVID-19 has had severe economic consequences in Canada, including the loss of nearly two million jobs in April. As economists, we are analyzing the...