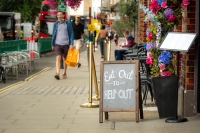 Why states didn't go broke from the pandemic
May 09, 2021 10:08 am UTC| Economy
During the summer of 2020, there were many news reports about the impending state fiscal crisis due to the pandemic. A July 7 article on CNBC with the headline Cuts to basic services loom as coronavirus ravages local...
Who wants to be a governor now?
Apr 13, 2020 03:36 am UTC| Insights & Views Politics
Governors Have the Best Political Jobs in America is the name of one of my lectures in a leadership course I occasionally teach at the University of Virginia. In that class, I describe how governors have huge...