First human-monkey embryos created – a small step towards a huge ethical problem
Apr 23, 2021 12:07 pm UTC| Science Insights & Views
Scientists have created the worlds first monkey embryos containing human cells in an attempt to investigate how the two types of cell develop alongside each other. The embryos, which were derived from a macaque and then...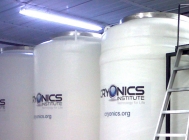 Cryonics: hype, hope or hell?
Nov 23, 2016 02:10 am UTC| Life Science
A 14-year-old dying girl has won the right to have her body cryonically preserved immediately after she died, according to a recent UK High Court decision. The girl, known as JS, hoped that sometime in the future, when...