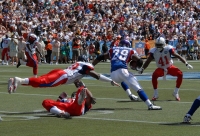 NFL concussion lawsuit payouts reveal how racial bias in science continues
Sep 20, 2020 06:04 am UTC| Sports
The first week of the 2020 National Football League (NFL) season occurred amid a growing social justice movement in professional sport. While other athletes protested police violence and honoured Black victims, the NFL...
How portrayals of the NFL are shaping criminal justice reform
Feb 22, 2020 00:24 am UTC| Insights & Views Sports
During the Super Bowl, crime and criminal justice reform were front and centre in an ad supporting Donald Trumps campaign for re-election. Commercials for the NFLs Inspire Change program (the leagues social justice...