Coronavirus weekly: where next for globalisation after the crisis?
May 29, 2020 14:13 pm UTC| Economy
As lockdown measures start to be eased in most countries around the world, the experts of The Conversations global network have focused this week on the major trends that are reshaping trade and the global economy. Just...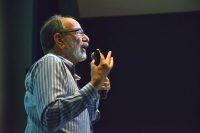 How economics can help save lives: a conversation with Alvin Roth, 2012 Nobel Prize laureate
Sep 25, 2019 01:18 am UTC| Insights & Views Economy
The work of American economist Alvin Roth is a direct response to those who believe that economics is more about mathematics than the real world. A professor at Stanford, he built his reputation by applying economic theory...