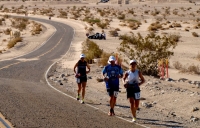 Ultra-marathon running: how safe is the sport?
Jun 10, 2021 03:58 am UTC| Sports
The 2021 Yellow River Stone Forest 100km trail race in Gansu province, China, ended in tragedy in May, when unexpectedly severe weather resulted in the deaths of 21 of the 172 competitors. Among them was the Chinese...