Contrary to what many "Super Smash Bros. Ultimate" fans hoped, the game's final DLC was not part of the latest Nintendo Direct on Thursday. However, Nintendo still had an important announcement about the game. The next and final fighter will be unveiled at a dedicated event next month.
Previous DLC fighters were usually announced as part of Nintendo Direct with a follow-up live stream for a demo. Nintendo had other plans, though. The company did not unveil the final fighter to join the "Super Smash Bros. Ultimate" roster. But Nintendo announced that it would be revealed at the next "Mr. Sakurai Presents" on Tuesday, Oct. 5, at 7 a.m. PT / 10 a.m. ET on YouTube.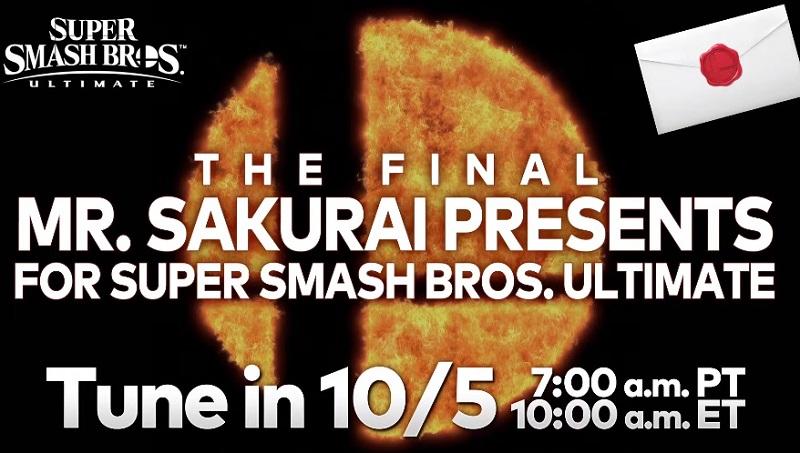 From Nintendo / YouTube
Like in previous "Mr. Sakurai Presents" shows, "Super Smash Bros. Ultimate" game director Masahiro Sakurai will demonstrate the upcoming character's fighting styles. This explains why Nintendo says the online event will run for "roughly 40 minutes."
Sakurai is also expected to announce the next "Super Smash Bros. Ultimate" DLC's release date and the set of Mii costumes at the Oct. 5 event. The final fighter's launch may come not long after Sakurai's presentation next month. It can be recalled that the "Mr. Sakurai Presents" focused on "Tekken's" Kazuya took place a day before the character was added to the game.
Meanwhile, fans have known for months that the next DLC will be the game's last. "I've been working on ['Super Smash Bros.'] for a long time. You could call it my life's work," Sakurai said during the Kazuya demo in June. "But finally, the next DLC fighter will be the last one. There won't be any more after that."
While it is still unknown who the final fighter will be, a supposed leak in August sparked rumors that it could be Waluigi. It was later dismissed by other sources, though. Earlier this month, a well-known Nintendo insider who goes by Samus Hunter said there is an "80% chance" that the final "Super Smash Bros. Ultimate" will come from a third-party game franchise.