Many smartphone fans around the world spent most of 2019 waiting for the announcement of Poco F2. Poco India appears to be very aware of that and even mentioning the smartphone brand recently to convey an important message.
Poco F2: Company mentions much-requested device but its launch remains unconfirmed
The continuing hope for Poco F2's release is mostly because of the success of the Poco F1 in 2018. Fans and even popular tech enthusiasts have been looking forward to the release of Poco F2. The Poco India division – that has since announced independence from being a Xiaomi sub-brand – went in a different direction when it announced Poco X2 earlier this year.
However, there are still indications that many fans want to see Poco F2 materialize. And it appears that Poco India knows too well. The company has, in fact, used the Poco F2 brand to put across a reminder amid the COVID-19 pandemic.
Over the last weekend, Poco India tweeted a banner photo with "Poco F2" written prominently in the center of the image. At a glance, it would seem like the company was announcing the much-requested smartphone. Only that it is followed with the words, "Now that we have your attention, please wash your hands." The remaining texts in the image tell fans to regularly wash their hands for at least 20 seconds every time.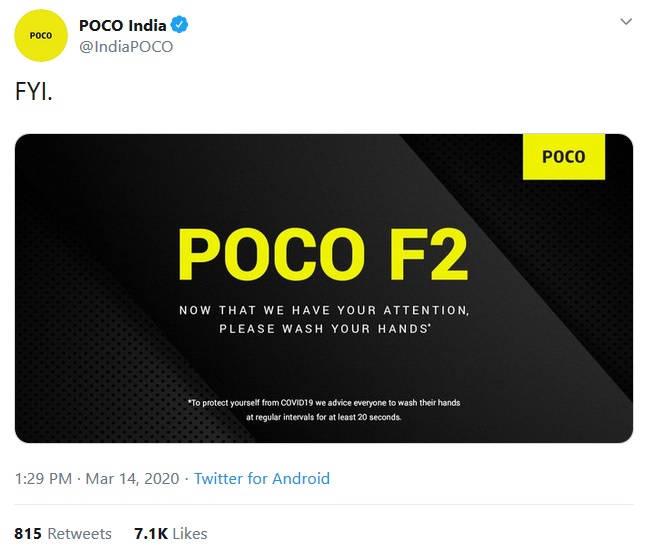 Screenshot from Poco India's official Twitter page (@IndiaPOCO)
What does this mean, then? For one, it is obviously not a Poco F2 announcement and it is also too uncertain to tell if it is a foreshadowing of the device's future release. Poco India has never really hesitated to mention Poco F2, even last year, despite the seeming lack of plans to launch the device. While this might be enough to keep many tech fans hoping for a Poco F2 release, it might just be what it is – a witty "clickbait" with good intentions reminding everyone to be safe amid a global pandemic.
Poco X2 vs. Poco F2: Why Poco India's first 2020 smartphone isn't a Poco F1 successor
In the absence of Poco F2, the company launched the Poco X2 last month. It still has the same qualities as Poco F1 such as having flashy specs and features at a relatively lower price point. However, there is one hardware specification that sets it apart from the Poco F2 – it does not have a Snapdragon 8 series processor.
SoCs from this category are known to be exclusively available on top-tier smartphones. But Poco broke the barriers when it launched Poco F1 with Snapdragon 845 (latest at the time) for a device that costs below $300. This has been the same reason tech fans still hope to see Poco F2 happen.