The previous week was a little tough for fans of the long-running manga series not because "One Piece" chapter 992 was delayed, but because of the reason why its release was postponed. On the bright side, the staff of series creator Eiichiro Oda later addressed the delay along with very good news.
'One Piece' chapter 992 new release date set
Manga readers were highly anticipating the release of "One Piece" chapter 992 given the latest events in the ongoing war in Wano. However, various sources reported last week that its release had been delayed because Oda suddenly got sick.
Well-wishes from fans flooded online and they were more concerned about Oda's health than the adjusted schedule of the series. Luckily, the official Twitter page for Oda's staff addressed the "One Piece" chapter 992 delay with the assurance that the series creator was already "in good physical condition" (per Google Translate) at the time of the post.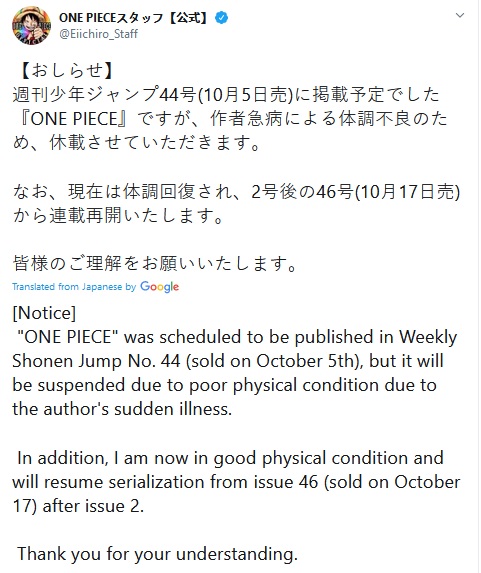 Screenshot from Twitter/@Eiichiro_Staff
The same tweet reiterated what was previously reported – "One Piece" chapter 992 will be released in the Weekly Shonen Jump issue 46 on Oct. 17 in Japan (Oct. 16 in US dateline). The official announcement of the new release date was met with replies from fans celebrating Oda's recovery.
'One Piece' chapter 992 where to read
Weekly Shonen Jump issue 46's printed, original copy will be released in Japan. But fans around the world can also read "One Piece" chapter 992 through a "simulrelease" on Manga Plus and VIZ Shonen Jump online. Its official websites and mobile apps give fans access to official copies of the manga for free.
'One Piece' chapter 992 predictions: Kaido faces Red Scabbards
"One Piece" chapter 992 will mark an important point in the Wano arc. Chapter 991 ended with Kaido making his move against the retainers of the Kozuki clan, aka the Red Scabbards. This happened after Jack was almost annihilated by the Sulong warriors from the Mink tribe. The Red Scabbards showed a renewed motivation in winning the war for the people of Wano and in honor of Oden's legacy. They have declared their readiness to die for this cause, but not before they ultimately defeat Kaido.
The Straw Hats, on the other hand, have had brief encounters with Big Mom and have recently gained a new ally as X Drake switched sides. Hopefully, "One Piece" chapter 992 would also provide updates on Law's and Kid's pirate crews.