One of the early predictions for the tech industry in 2020 was that a Nintendo Switch Pro model would be released in the next 12 months. However, the video game company immediately shut down the rumors announcing that they do not plan to release the said console or any new Switch model.
Nintendo Switch Pro rumors debunked: Company says no launch is set for 2020
Industry analysts had high hopes for the Nintendo Switch platform in 2020, including the release of a Pro model within the year. As reported previously, the Japanese video game company was anticipated to launch the Pro model with 4K support as its highlight feature and could be priced around $399.
However, Nintendo has now set the record straight ultimately debunking the Nintendo Switch Pro rumors. "Regarding Nintendo Switch, we believe that it is important to continue to communicate the appeal of both Nintendo Switch systems and expand the installed base," Nintendo president Shuntaro Furukawa said during a recent financial briefing. "Please note that we have no plans to launch a new Nintendo Switch model during 2020."
Rumors about the console lingered in the following weeks with claims that it could sport a new Nvidia GPU. Considering that the current generation of Nintendo Switch has been around since March 2017, it did not seem far-fetched that the company would want to expand its console lineup at the start of a new decade.
Nintendo Switch games: Console shipments, 'The Outer Worlds' port delayed due to coronavirus
The news of the Nintendo Switch Pro not getting released this year was immediately followed by another slew of unfortunate news. There might be another shortage of Nintendo Switch units in some regions as well as the Switch port of "The Outer Worlds" as the companies cite delays due to the coronavirus outbreak.
While Nintendo is headquartered in Japan, a huge part of the production of the Switch takes place in China where most of the confirmed cases of coronavirus are situated. The delay in the shipments has since been confirmed by the company on its Japanese website.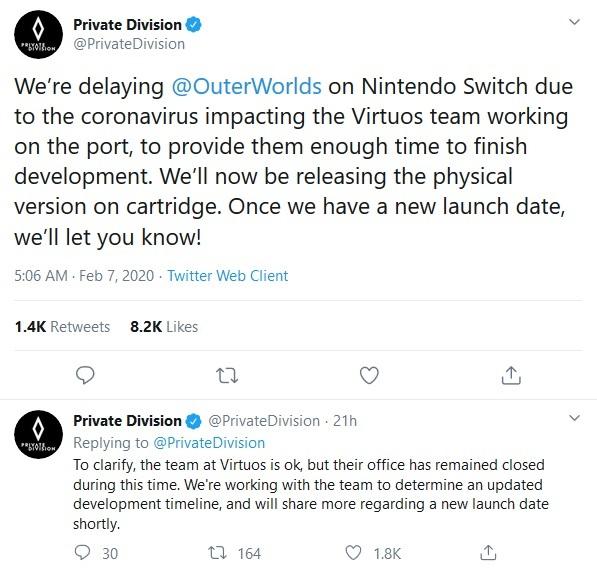 Screenshot from Twitter/@PrivateDivision
Nintendo Switch fans have been anticipating the release of "The Outer Worlds" port that was originally set for March 6. However, the game's publisher Private Division announced on Thursday that the development of the game is affected by the virus outbreak. Virtuos, the company mainly working on the port, has offices in China that remains close at the time of the announcement. Meanwhile, a new release date has not been confirmed yet.