The Polish zloty has staged an impressive recovery over the past fortnight, strengthening from a low of 4.40 against the euro in early July to near 4.2870 at present (while articulating). Polish policymakers have commented that they expect around 5% GDP growth for Q2 (the same as in Q1). The confidence in a solid growth outlook has been a notable feature of the Polish business landscape over the past year, and this has been a supportive factor for the zloty.
Historically, short gamma, vega neutral structures of the type short front / long back vol have performed well within EM where spot tends to be under the watchful eye of central bankers while most of the market pricing gets filtered into back tenors. Within EM, EM Asia has been the most consistent outperformer but EM-EMEA also have shown strong average with an overall Sharpe ratio of 0.7 for short 3M/long 12M delta hedged straddles over the last 3-years.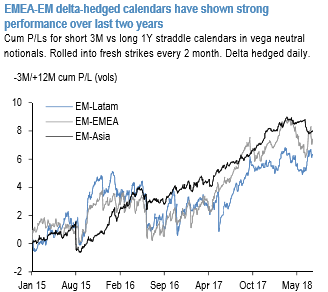 Despite the adverse trade tariffs developments, cross-asset vols dropped since early July, characterizing risk supportive market sentiment. That could also be a relevant factor for containing the marked drop of EM currencies that started in early April and for suppressing realized vols/front-end of the curve.
Further support for EURPLN vol selling should come from traditionally lighter summer calendar over next 2 months and as markets attention on the Euro area is fading at the moment (see 10 yr BTP-BUND spread tightening in refer below chart), and EURPLN is less correlated with global risk factors than eg. USDPLN.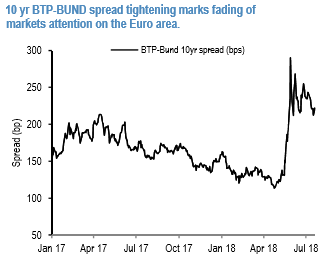 Even at the currently elevated levels realized vol is trailing implied vol by 0.5vols and high frequency (hourly) realized vol is indicating softer realized vol going forward.
The forecasts presume that this pace of growth would not last during the coming quarters – latest data strengthen this view, and although growth may not be the primary driver of the exchange rate, the data support our story of a weaker zloty over the coming year.
Zloty should be relatively less impacted to increased trade tensions in the auto sector (with about four times less export/GDP exposure than Hungary or the Czech Rep) and list PLN as they favoured OW within CEE. Positive macro and fundamentals should be supportive of short front vol.
With respect to strike selection, 3M EURPLN risk reversals seem elevated by historical standards and the implied spot/vol correl is now modestly rich to realized spot/vol correl following the recent consolidation of the realized spot/vol April jump, making selling OTM strikes a viable option (refer below chart).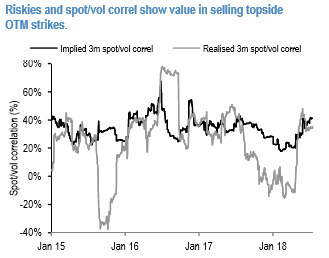 The curve inversion (refer below chart) is supportive of long vega, overall making short 2M 25D calls vs. long 6M straddles in vega notionals our favorable EURPLN vol calendar expression. Sell 2M 25 delta EURPLN calls @6.8/7.225indic vs buy 6M EURPLN straddles @5.975choice, both legs delta-hedged, in vega notionals.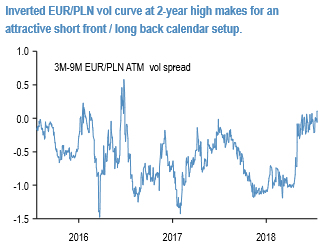 Currency Strength Index: FxWirePro's hourly EUR spot index is inching towards -37 levels (which is bearish), while USD is flashing at -82 (which is bearish), while articulating at (11:02 GMT). For more details on the index, please refer below weblink: