"Food Wars" season 5 is going to premiere in a month, and anime-only fans have no idea what the next challenges Soma and Erina are going to face. However, the latest preview of the Fifth Plate gives them another glimpse of the mystery character who met with Erina in the season 4 finale.
'Food Wars' season 5 spoilers: Who is the character joining Totsuki chefs in the key visual
With just a month left before the premiere of "Food Wars" season 5, fans have finally been provided with the first official preview in the form of the key visual. On the right side of the image, occupying a rather huge space is a face not familiar to fans who are not caught up with the manga.
It is only fitting to give this character much space in the "Food Wars" season 5 key visual considering the impact he will have in the upcoming story arcs. As mentioned, he already had a cameo appearance in the season 4 finale where he met with Erina. Interestingly, this was not who he was introduced in the manga. The latter was a more devastating scene where he defeated Joichiro in a shokugeki.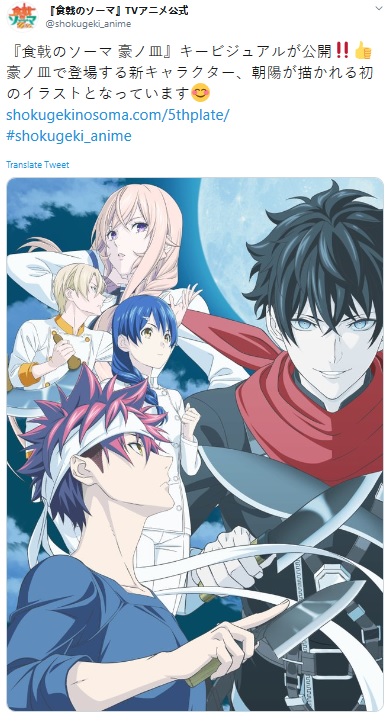 'Food Wars' season 5 key visual | Screenshot from Twitter/@shokugeki_anime
This character is going to be the main villain for the remaining story arcs in "Food Wars" season 5. Manga fans who have finished reading the series likely have mixed feelings about the addition of this character. But it cannot be denied that this baddie is one of the more layered characters introduced in terms of the mysteries behind his identity and his connections to Erina and Soma. Additionally, anime viewers might not be able to deny that this villain has impressive culinary skills once they see him in action in "Food Wars" season 5.
'Food Wars' season 5 release date: Premiere confirmed in April
It has been confirmed for months that "Food Wars" season 5 will join the spring 2020 anime slate. Now, the exact premiere date of the Fifth Plate is also announced. The first episode will air on Friday, April 10, 24:30 JST, which is essentially April 11 for many fans around the world.