"Deathloop" may be a third-party title, but it is one of the biggest PS5-exclusive titles slated to launch this year. As previously confirmed, however, this deal is only good for a certain period. And it appears that one of the trailers for the game has revealed when Arkane's new IP is going to launch on Xbox consoles, and possibly on Xbox Game Pass.
"Deathloop" presentations were some of the highlights at the PlayStation State of Play last week. While the teasers did their job of hyping up PS5 fans, one of the videos may have also revealed a piece of crucial information that should interest Xbox users.
It has been known for a while now that Sony only got the "Deathloop" on a timed exclusivity deal. That means it could become available on other platforms after a certain period. But the game's official gameplay walkthrough video appears to have confirmed when that deal will expire.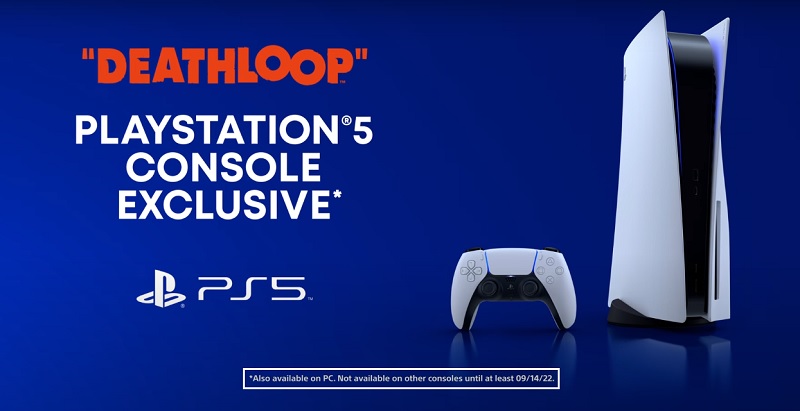 From PlayStation / YouTube screenshot
At the 9:40 mark of the video, as first spotted by Kotaku, fans will see another reminder that "Deathloop" is a PS5 exclusive. But the word "exclusive" is also asterisked, and further explanation at the bottom of the screen – displayed in very small font size – confirms that the timed exclusivity will last "at least until 09/14/22."
While the wording makes it seem like there is a chance for the exclusivity deal to be extended, that looks like an unlikely scenario now that Bethesda and Arkane are officially Microsoft-owned companies. This means "Deathloop" could come to the Xbox Series X/S consoles as soon as Sept. 15, 2022. And considering Microsoft's strategy to further boost Xbox as a platform, it would not be surprising if the game is offered to Xbox Game Pass members on its first day of becoming an Xbox title.
Microsoft's $7.5 billion acquisition of Bethesda's parent company ZeniMax was one of the biggest, if not the biggest, gaming news of 2020. Shortly after its announcement, Microsoft confirmed it is going to acknowledge pre-existing exclusivity deals Bethesda and other ZeniMax studios have, which included "Deathloop" and "Ghostwire: Tokyo."
"Deathloop" will be released on Sept. 14. The game will also launch on Windows PC.