With many fans currently stuck in their homes for quarantine measures amid a global pandemic, it helps to be distracted for a while with a release of new "Cyberpunk 2077" wallpaper. The image is filled with many interesting details that it would be remiss not to speculate on what they mean.
'Cyberpunk 2077' gameplay, plot
CD Projekt Red unveiled the new wallpaper on Monday, showing male V in a new scene that may or may not be included in the "Cyberpunk 2077" campaign. The image is set in a Night City subway with V calmly sitting inside a train car despite heavily armed men are trying to breaking in.
Inside the train car, V is holding a futuristic revolver while a dead body lies in a pool of blood on the other side. Considering the protagonist is holding a gun, this might be a fresh kill. Interestingly, another man sits beside V peacefully sleeping, wearing his headphones completely unaware or just does not care about the chaos around him. The new "Cyberpunk 2077" wallpaper is likely offering fans a glimpse of a normal day in Night City.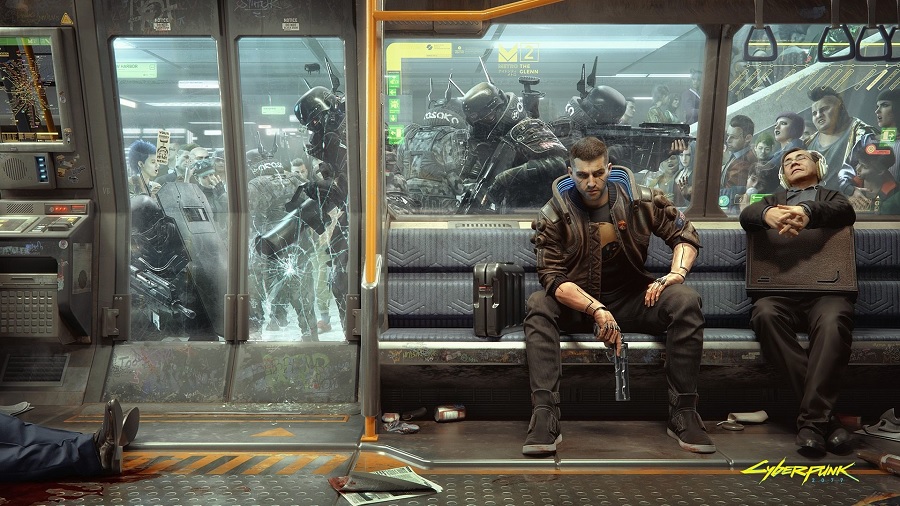 Official 'Cyberpunk 2077' wallpaper | Photo credit: CD Projekt Red / cyberpunk.net
There is so much more happening outside the train car. The armed men are a private army of the Arasaka megacorporation. Since V is calm in the scene, there are suggestions that he might be completing a contract for Arasaka in this particular situation. And the steel briefcase beside him could be what the goons are supposed to collect. This is plausible, noting that V is a mercenary for a living to which the "Cyberpunk 2077" campaign missions would also be centered.
It would not be surprising if a similar scenario will appear in the actual "Cyberpunk 2077" campaign later this year. Meanwhile, other details in the wallpaper also tell fans how the citizens of Night City are so used to violence. Most people's facial expressions outside the train car suggest they are more concerned that their travel is delayed rather than the big weapons pointing at them while others riding the escalator do not show much concern at all about what's going on.
'Cyberpunk 2077' release date
Gaming fans can download the wallpaper for free through the official "Cyberpunk 2077" website, along with other images released previously. It is available in a wide array of image resolutions from 1,600x900 up to 3,840x 2,160.
It will take a few more months to decipher what's really going in the scene featured in the new wallpaper. "Cyberpunk 2077" was initially planned to be released in mid-April, but the timeline has been changed, and the RPG is now set to launch on Sept. 17.