Microsoft did not remove "Cyberpunk 2077" from its digital store, but it does not mean the game was running well on Xbox One consoles. The company was also forced to expand its refund policy following the game's heavily criticized state at launch, but that special offer is ending in a few weeks.
The official Xbox Support page for refund requests recently added an important notice, as first reported by The Verge, that the expanded refund policy for "Cyberpunk 2077" will end on July 6. Sony also previously announced the removal of the dedicated web page for the "Cyberpunk 2077" refunds a few days before the game was relisted on the PlayStation Store on Monday.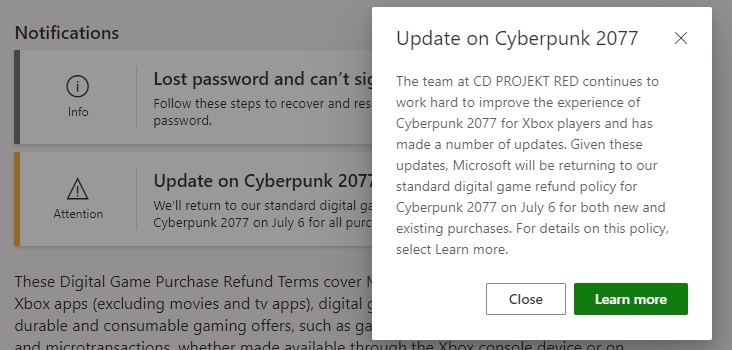 From Xbox Support
Meanwhile, the explanation of why Microsoft is removing the expanded refund policy for "Cyberpunk 2077" purchases is quite interesting. The company says developer CD Projekt Red "continues to work hard" to fix the game. With the updates released, Microsoft has decided to revert its refund policy for "Cyberpunk 2077" to its general rules.
After July 6, all new and existing purchases of "Cyberpunk 2077" on Xbox One will be covered by Microsoft's regular refund policy, which does not guarantee that every request will be granted. One of the most common rules in refunding video games is that requests should be made within 14 days from the day of purchase. "We consider a variety of factors like time since date of purchase, time since release, and use of the product," Microsoft says about refund requests for digital games on Xbox.
CD Projekt Red did deliver hundreds of performance and stability fixes over the last six months that improved the game's condition than the day it was released. But whether "Cyberpunk 2077" is "fixed" is still up for debate. Fans are also waiting to see if the promised gameplay features that were reported missing at launch would be added to the game.
A month after the game's release, CD Projekt Red said it is committed to fixing "Cyberpunk 2077" and promised to deliver free DLCs and new-gen upgrades sometime this year. During the company's Q1 2021 earnings call, CD Projekt confirmed it will not start a full development of a new IP until 2022 and that most of its developers are still focused on working on "Cyberpunk 2077" updates.