Blockchain technology, which was once confined to being the backbone of cryptocurrencies, has emerged from the shadows and taken the world by storm.

The technology underpinning digital currencies such as bitcoin has attracted interested from across industries ranging from financial services to real estate, to media, to entertainment, to payments, and beyond. The hype around blockchain reached its epitome in 2015, which saw the setting up of major consortiums including the one led by enterprise software firm R3 and the Linux Foundation's Hyperledger project.

According to Statista, the market for blockchain technology is expected to grow to 2.3 billion U.S. dollars by 2021.

The technology has brought together the public and private sector – leading to collaborations between governments/central banks and startups aimed at harnessing its potential.

Media, of course, has a big role to play to advance the dialogue on how blockchain technology could transform various sectors. On these lines, EconoTimes and TokenPost are going to bring technology pioneers in this space under one roof on June 28-29. The objective is to cut through the noise and offer deep insights into blockchain potential in areas including notarization, entertainment, financial services, payments, real estate, media, and social impact, among others.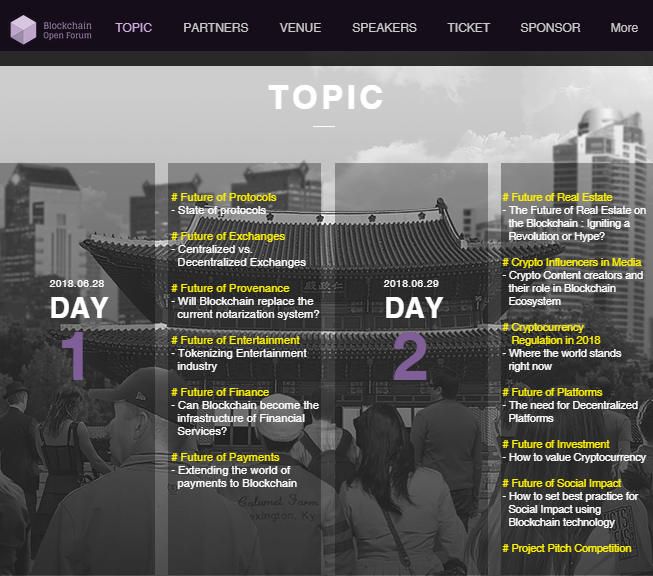 An analysis of the blockchain initiatives undertaken in the past couple of years shows that "Payments" is one of the most sought out areas with the world's leading financial institutions actively exploring blockchain application in this field. Banking and Financial Services is yet another area where blockchain technology is expected to significantly improve operational efficiency in a secured, transparent, and cost-effective manner.

In addition, the technology is also being explored in other areas as well. TokenPost is spearheading blockchain initiative in media as it became the first media company to issue its own cryptocurrency, TokenPost Coin. TokenPost CEO Sonny Kwon believes that media must tokenize to survive.

In the field of real estate, Californian blockchain startup Propy partnered with the Ukrainian government in August 2017 to allow online real estate purchases by foreign investors using blockchain technology. The government of the Republic of Georgia teamed up with Bitfury to expand blockchain land titling project.
A number of efforts are also being made to digitize the notarization process. Back in 2016, Tech Bureau and NEM launched notary and timestamping solution 'Apostille'.

The upcoming Blockchain Open Forum will look into these use cases, as well as feature discussions on the state of protocols, centralized vs. decentralized exchanges, future of investments with a focus on cryptocurrencies, the current state of cryptocurrency regulation, and much more.