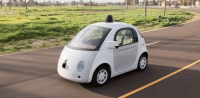 Google car crash: who's to blame when a driverless car has an accident?
Mar 03, 2016 13:58 pm UTC| Technology Law
Luckily no one was injured when one of Googles self-driving cars recently crashed itself into a bus as it pulled out at a junction. The car was only travelling at 2mph, after all. The company has admitted it bore some...