Are 'dog years' for real? The maths behind calculating canine age explained
Dec 01, 2019 03:19 am UTC| Insights & Views Life
If your dog has been alive and kicking its paws about for a decade, the widely held belief is that it has aged as much a human would have done by the grand old age of 70. This conversion factor each year of a dogs life...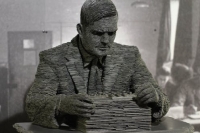 Alan Turing: visionary, war hero and the only choice for the £50 note
Nov 08, 2018 16:54 pm UTC| Insights & Views Life
The Bank of England has decided that the next prominent figure to feature on the 50 note should be a scientist and have put the call out for nominations from the general public. For me, there is one scientist who stands...