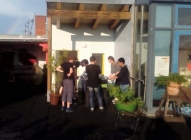 First home buyer schemes aren't enough to meet young adults' housing aspirations
Aug 15, 2019 17:36 pm UTC| Insights & Views Real Estate
Young adults not only struggle to buy a home, many struggle to secure any kind of independent housing. This contributes to a cycle of living in precarious and informal housing and to a growing gap between their current...
'Just like home'. New survey finds most renters enjoy renting, although for many it's expensive
Oct 09, 2018 12:51 pm UTC| Insights & Views Real Estate
One in every four Australian households rents, and its not just those on low incomes. A new nationally representative survey of 3,182 renters, funded by the Bankwest Curtin Economics Centre, finds that while 60% of...