Reviewing Indonesia's tsunami early warning strategy: Reflections from Palu
Oct 04, 2018 15:24 pm UTC| Insights & Views Nature
The 7,5 magnitude earthquake and subsequent tsunami that had hit Palu and Donggala in Central Sulawesi Indonesia last Friday, has killed at least 1,300 people. Some 99 people are missing, 799 injured and nearly 60 thousand...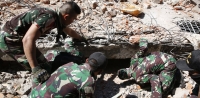 After devastating earthquakes, Indonesia must embrace radical change
Aug 08, 2018 11:56 am UTC| Insights & Views Nature
An earthquake on Lombok island in Indonesia has left 98 people dead and 20,000 people homeless, according to the National Disaster Mitigation Agency. Around 70% of North Lomboks housing stock has either collapsed or...