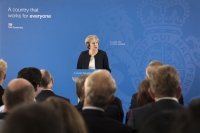 Theresa May resigns: how the leadership race could play out from here
May 27, 2019 09:14 am UTC| Insights & Views Politics
Theresa Mays postdated resignation as Conservative leader and prime minister has fired the starting gun on the contest to replace her. She was forced out after her cabinet revolted over her plans to offer concessions to...
Theresa May defeats Brexit plotters – here's what happens now
Dec 16, 2018 12:58 pm UTC| Insights & Views
After a week of humiliating setbacks in her pursuit of Brexit, Theresa May, the UK prime minister, was spared the indignity of being voted out of office by her own MPs. Her victory in the Conservative leadership confidence...