Healthy, happy and tropical – world's fastest-growing cities demand our attention
Apr 01, 2019 17:24 pm UTC| Insights & Views Health
What does it take to be a happy and healthy city? In any city, myriad factors go into the mix and of course we are not dealing with just one kind of city. But, due to the world history of colonisation, models are still...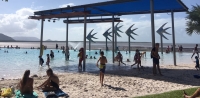 Making a global agenda work locally for healthy, sustainable living in tropical Australia
Jun 06, 2018 23:22 pm UTC| Insights & Views Economy
Life in the tropics is often seen as living in paradise, a place where everything grows and flourishes. This picture-postcard environment is not the year-round reality. At certain times of year, intense heat, humidity and...