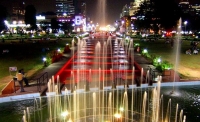 New Delhi is running out of water
Jul 11, 2017 20:08 pm UTC| Insights & Views Economy
As summer temperatures soar above 40C in New Delhi, acute water shortages are gripping parts of Indias capital. Signs of water stress are now everywhere, and residents in southern and western parts of the city have not...
India's wells are running dry, fast
Jun 17, 2017 16:23 pm UTC| Insights & Views Nature
Over the past three years, the monsoon the rainy season that runs from June through September, depending on the region has been weak or delayed across much of India, causing widespread water shortages. With the onset...