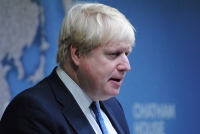 Boris Johnson is in intensive care, so who is in charge in the UK?
Apr 08, 2020 12:44 pm UTC| Insights & Views Politics
The fact that Boris Johnson is in intensive care following his COVID-19 diagnosis reminds us that the UK is unusual in not having a clear system of who to turn to when the prime minister is incapacitated. Other...
Why Theresa May should appoint a deputy prime minister
Jun 13, 2017 15:34 pm UTC| Politics Insights & Views
After one of the most surprising general elections in British history, Theresa May remains in government but in circumstances very different to those she must have been expecting just weeks previously. Despite...