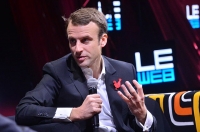 Macron beats Le Pen, but can he lead France?
May 08, 2017 05:01 am UTC| Insights & Views Politics
In the second round of the French presidential election, extremism lost. It is less clear what won. Estimates after the polls closed on May 7 had Emmanuel Macron winning with 63.7 percent of the vote. National Front...
Six questions about the French elections
Apr 14, 2017 01:28 am UTC| Insights & Views Politics
As France goes to the polls to elect a new president, observers are wondering if the vote will follow a populist trend that led to Brexit and the election of Donald Trump. Here are a few important things to know about...