Begging 'professionally' doesn't make their poverty and vulnerability any less legitimate
Jul 10, 2019 00:16 am UTC| Insights & Views Law
Last week, Victoria Police arrested seven people who were alleged members of a professional begging syndicate. They were flown in from China on tourist visas. In reporting this story, Australian media generated a...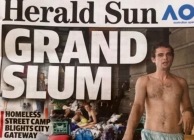 Ban on sleeping rough does nothing to fix the problems of homelessness
Jan 24, 2017 15:40 pm UTC| Insights & Views Law
Melbourne Lord Mayor Robert Doyle has announced a plan to ban sleeping rough in the city. Doyle did so last week amid significant pressure from both Victoria Police and the tabloid media. When Victoria Police Chief...