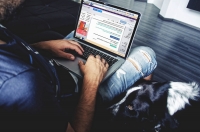 How to boost your internet speed when everyone is working from home
Apr 04, 2020 06:55 am UTC| Technology
With #StayAtHome and social distancing now becoming a way of life, an increasing number of people are relying on the internet for work, education and entertainment. This has placed greater demand on our network...
Don't die wondering: apps may soon be able to predict your life expectancy, but do you want to know?
Jan 18, 2020 11:44 am UTC| Insights & Views Technology
When will I die? This question has endured across cultures and civilisations. It has given rise to a plethora of religions and spiritual paths over thousands of years, and more recently, some highly amusing apps. But...