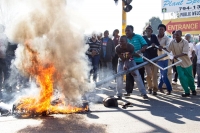 What lies behind social unrest in South Africa, and what might be done about it
Aug 22, 2021 01:43 am UTC| Politics
South Africa has among the highest recorded levels of social protest of any country in the world. The reasons behind this are more complex than often assumed. The scale and severity of the looting and sabotage in...
South Africa's new economic proposals highlight the role of services
Sep 06, 2019 07:43 am UTC| Insights & Views Economy
South Africas Finance Minister Tito Mboweni recently published a package of economic policy proposals that warrant serious consideration. They are aimed at reviving the flagging economy whose growth over the past five...