Why is the Pentagon interested in UFOs?
May 20, 2019 22:35 pm UTC| Insights & Views Science
U.S. Navy pilots and sailors wont be considered crazy for reporting unidentified flying objects, under new rules meant to encourage them to keep track of what they see. Yet just a few years ago, the Pentagon reportedly...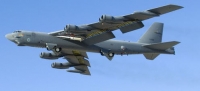 US, Russia, China race to develop hypersonic weapons
May 02, 2019 16:51 pm UTC| Insights & Views
Russia and China have recently touted their progress in developing hypersonic vehicles, which fly much faster than the speed of sound, which is 767 mph. Hypersonic missiles are rocket-boosted to high altitude and may be...