Kanye West continues to make headlines after his controversial campaign rally in South Carolina on Sunday. Now, the music artist is claiming his wife Kim Kardashian wants to "lock me up" with a doctor like the main protagonist's fate in the movie "Get Out."
Kanye West likens his situation to the movie 'Get Out'
Earlier this month, the rapper announced his bid for the White House in the upcoming November elections. However, one of his representatives seemingly announced West has canceled his campaign after less than two weeks. But confusion surged once more when he held his first campaign rally in North Charleston, South Carolina this weekend.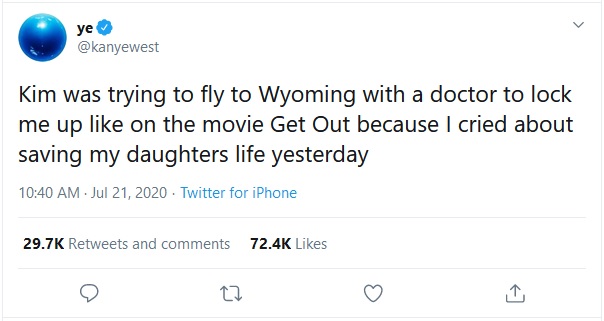 Screenshot from Twitter/@kanyewest
West is now tweeting that Kardashian has been trying to be with him in Wyoming, where he owns a ranch, along with a doctor. "Kim was trying to fly to Wyoming with a doctor to lock me up like on the movie Get Out because I cried about saving my daughters life yesterday," West tweeted.
He is referring to the abortion comments he made at his campaign rally where he revealed, "I almost killed my daughter." The rapper said he initially did not want Kardashian to proceed with the pregnancy of their first child, North, now 7. Kardashian has yet to publicly address what his husband had said at the South Carolina event, but TMZ claims she and other friends had been "upset" over West for revealing their personal experiences in discussing abortion.
Kanye West subtly calls out Kris Jenner in another tweet
A few minutes before his "lock me up" tweet, West also posted what appears to be a jab on her mother-in-law, Kris Jenner. "I put my life on my God that Norths mom would never photograph her doing playboy," West wrote.
The rapper is likely referring to the time when Jenner was seen taking behind-the-scenes photos of Kardashian's Playboy photoshoot in 2007. The moment was shown in an episode of "Keeping Up with the Kardashians" and is now known as the You're Doing Amazing, Sweetie meme. West then added that he is at the ranch and seemingly telling Jenner to "come and get" him.
West also came under fire for telling the South Carolina crowd, "Harriet Tubman never actually freed the slaves." Tubman is one of the well-known American abolitionists recognized for taking 13 trips through the Underground Railroad to free around 70 slaves and send them to safe houses. Fans and other celebrities are more worried about the hip-hop artist as they think recent events point to another mental breakdown. In 2019, West confirmed he had been diagnosed with bipolar disorder.