The rise of social media has paved the way for misinformation to spread in the fastest fashion the world has ever seen. No one is exempted from online fake news, even former United States President Barack Obama. A photo of Obama has been circulating online where he appears to award the Presidential Medal of Freedom to convicted rapist Harvey Weinstein.
Barack Obama's photo is doctored to make it look like he's awarding Harvey Weinstein the Medal of Freedom
After a five-day deliberation, a jury found Weinstein guilty of first-degree criminal sexual assault and third-degree rape on Monday. A string of sexual allegations shocked Hollywood in 2017 after many actresses, and female workers in the film industry came forward alleging Weinstein of various forms of sexual misconduct.
A photo of Obama seemingly bestowing Weinstein with the medal started going viral online after he was convicted. The image has been shared by thousands of Facebook users from a couple of posts. The images were not taken down yet as of this writing, by Facebook has since flagged them as False Information. Weinstein was never awarded the Medal of Freedom.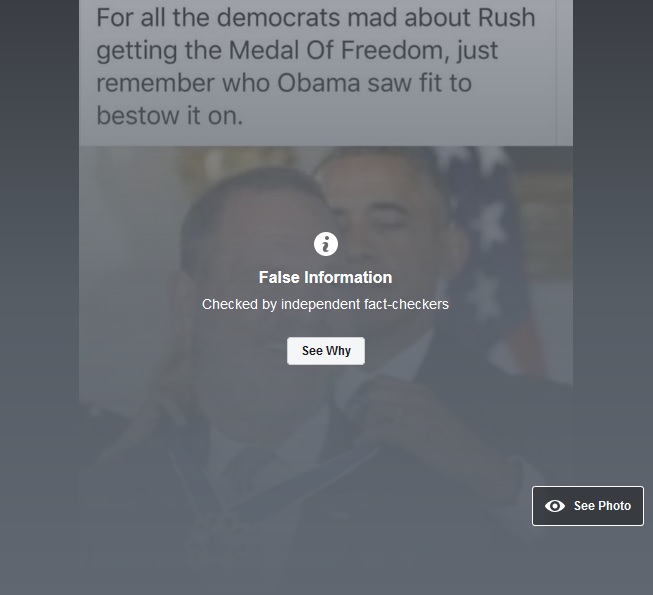 Screenshot from Facebook.com
FactCheck.org confirmed that the image was a photoshopped version of the actual photo when Obama awarded former Vice President Joe Biden with the said recognition in early 2017. Aside from a reverse image search, the same report noted that Obama's facial expression, the angle at which the image was taken, and Biden's tie are key points of comparison between the real and the fake photos.
Donald Trump: 'Michelle Obama loved [Harvey Weinstein]'
It does not seem like the photo will be gone anytime soon, though, especially now that US President Donald Trump claimed Michelle Obama and other Democratic personalities "loved" Weinstein. During Trump's official visit to India, he told reporters he did not know much about the case, but he "was just not a fan" of the disgraced film producer.
"I will say the people that liked him were the Democrats. Michelle Obama loved him. Loved him. Hillary Clinton loved him," Trump added. Weinstein is known as one of the prominent donors of the Democratic Party and supporter of the Obama and Clinton campaigns.
A video of Michelle Obama calling Weinstein a "wonderful human being" has also resurfaced. The video was taken during a White House event in November 2013, organized by Weinstein for the entertainment industry.
However, the Obamas had an obvious change of heart in 2017, saying, "Michelle and I have been disgusted by the recent reports about Harvey Weinstein. Any man who demeans and degrades women in such fashion needs to be condemned and held accountable, regardless of wealth or status."