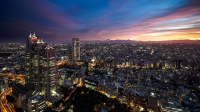 The four best cities in the world ... according to the experts
Apr 20, 2018 05:52 am UTC| Insights & Views Life
More and more people are moving into cities. As growing populations place pressure on urban housing, infrastructure and transport systems, residents, planners and politicians are having to come up with clever solutions to...
Here's what happened at Habitat III -- the world's biggest conference on cities
Oct 21, 2016 18:03 pm UTC| Insights & Views Real Estate
Habitat III the United Nations global conference on the future of cities has come to a close. About 30,000 people gathered in Quito, Ecuador, to discuss the key issues facing cities today and sign off on the New Urban...