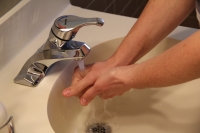 Hand washing stops infections, so why do health care workers skip it?
May 18, 2016 08:19 am UTC| Health
Hospital infections affect almost two million people in the United States every year, 100,000 of whom die. Up to 70 percent of these infections could be prevented if health care workers follow recommended protocols, which...