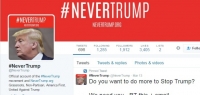 #NeverTrump: could a third-party candidate save the Republicans from armageddon?
May 16, 2016 12:38 pm UTC| Insights & Views Politics
Recent media buzz suggests that disaffected #NeverTrump Republicans are seriously seeking an alternative candidate to Donald Trump, the presumptive GOP nominee. With the chances of stopping Trump formally taking the...