Dilma Rousseff, two views of democracy, and the battle for Brazil's future
Sep 03, 2016 10:44 am UTC| Insights & Views Politics
Dilma Rousseff is fond of ancient history. The woman removed as president of Brazil recently revealed she had been reading work by the Cambridge classicist Mary Beard. And certainly the events of the last few months in the...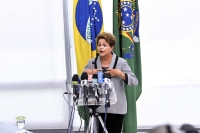 With Dilma Rousseff impeached, Brazil is set for years of political turmoil
Apr 18, 2016 13:15 pm UTC| Insights & Views Politics
The lower house of Brazils National Congress has voted overwhelmingly to impeach President Dilma Rousseff for allegedly covering up the scale of the countrys budget deficit, sending the case to the upper house. As the vote...