How to keep more girls in IT at schools if we're to close the gender gap
Jul 10, 2016 21:01 pm UTC| Insights & Views Technology
The world is increasingly embracing digital technology, and so too are our schools. But many girls are still missing out on developing IT and programming skills. IT classes in schools mostly focus on basic skills, such...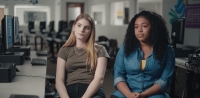 The real reason more women don't code
May 30, 2016 04:38 am UTC| Insights & Views Technology
I menstruate, and I code. I share this perhaps shocking personal information in the interest of full disclosure, and in solidarity with a new satirical campaign from Girls Who Code. The campaign proposes a simple...