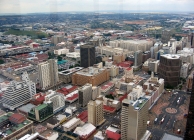 Why Britain's decision to leave the EU is bad news for Africa
Jun 28, 2016 20:11 pm UTC| Insights & Views Economy
The fallout from the UK referendum that ended in victory for those wanting the country to exit from the European Union (EU) is still reverberating around the world. But what does it mean for Africa? The decision will...
Chinese engagement in African agriculture is not what it seems
Mar 29, 2016 05:06 am UTC| Insights & Views
In December 2015, Chinese President Xi Jinping flew into South Africa for the Forum on China-Africa Co-operation with great fanfare. There were lots of announcements about prospective investments across Africa. Agriculture...